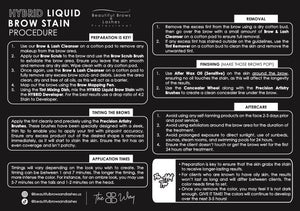 Learn how to stain the brow hairs and skin like a pro with the guidance of free Hybrid Liquid Brow Stain Procedure Form! This PDF will walk you through all of the necessary steps that need to be taken to receive optimal and long lasting results!
Application Tips and Key Products
Brow Scrub:

 

DO NOT SKIP THIS STEP!!! A common reason why a lot of stains don't stick or are splotchy is due to dead skin cells on the eyebrow area. Scrubbing the eyebrow with our BB Brow Scrub ensures you have a smooth, oil free surface to start your application. 
Hybrid Developer: Our Hybrid Stain developer is specially formulated to be mixed with our Hybrid stains in order to receive that skin stain! This developer will ensure longevity of the stain and has added ingredients, such as coconut oil and panthenol. To ensure you get the best results possible, we highly recommend using the hybrid developer!
Application:

 

Push the product into the skin! Our hybrid stain is most beneficial if pushed into the skin with a coarse, dense brush. Brush denser hair types upward to ensure the stain will adhere to the skin beneath the hairs, creating an even application throughout the entire brow. 
Color Saturation:

 

The color needs time to set. Once you remove the color, you may feel it is not dark enough. GIVE IT TIME! The colors will continue to develop over the next 3-5 hours! 
Checkout with a credit/debit card or use an express payment option