Lash Lift & Brow Lamination Favorites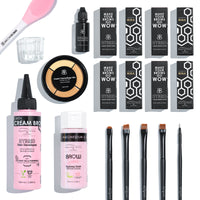 HYBRID BROW PRO STAIN KIT
Elevate your Brow Game: Our Hybrid Liquid Stain Pro Kit has everything you need for flawless brows.
Hybrid Brow Pro Stain Kit Includes:
1x of each stain color (9 colors Total)
1x Hybrid Developer
1x Brow Scrub
1x Brow Scrub Brush
1x Concealer Wheel
1x Precision Artistry Brushes - 5 pack
1x Tint Mixing Cup
1x Brow Mapping Pencil
1x Tint Remover (Optional Addition)
1x Lash & Brow Cleanser 100ml (optional Addition)
Nourishing Ingredients: Infused with Himalayan water and Indian Gooseberry for healthy brows. Henna FREE & 100% Safe Ingredients. You'll love this Kit!!
BUY NOW!
BEAUTY ENDEVR for Beauty Professionals
BEAUTY ENDEVR provides industry leading brow lamination & lash lift training courses with the highest quality of professional lash lift and brow products. These include our signature Lash Lift Bomb Duo step by step products, Brow bomb - the industries best brow lamination, Beautiful Brows and Lashes intensive lash and brow tint, aftercare serum, brow henna, lash shields, and a superior designed brow henna kit.
For Perfect results every time, visit the online store for a wide range of products and the highest quality lash lift certification available.
Enhance your client's natural beauty, with our professional lash lift kit and brow lamination kit combined with expert instruction and products focused upon brow lamination aftercare.
The Lash Lift curriculum includes lash lift training online, to make our lash training accessible and affordable without any compromise on quality. In addition, our Brow Bomb education combines the best in brow lamination training by industry leading professionals.
Let Beauty Endevr help you achieve stunning, professional results from your clients every time.